One of my favorite things ever is finding recipes that I have all the ingredients for. It's like a jack-pot. I kind of get the same feeling that I get when I buy a scratch off lotto ticket and win $2.00...which is way too excited.
So, while at the gym today I was reading a magazine from July 2011 (super up-to-date, I know.) and there was a recipe for something called "oh-so-good granola bars." Well, I did what any self-respecting girl would do and...totally ganked the recipe and shoved it in my gym bag. I felt so deviant. It was kind of my version of a thrill.
Anyways, I decided to make these granola bars tonight. I tweaked the recipe a bit, so what is listed below is what I used...because these are ridiculously delicious. Bonus: They're only 150 calories each and they have 6g of protein per bar (which isn't a whole lot, I'm aware, but still...it's 6 more grams than you would get if you weren't eating this bar...right?)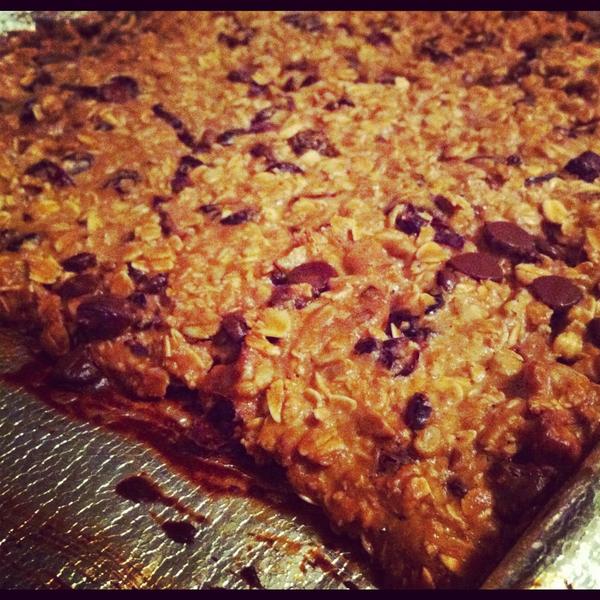 Fresh out the oven...and Instagrammed.
Oh-so-good Granola Bars
Set the oven to 325 degrees
Take out a baking sheet. Cover the baking sheet with non-stick foil...or just use normal foil and spray it with cooking spray.
Ingredients
1 cup quick cooking rolled oats
1/2 cup flour
2 tablespoons ground flaxseed (optional)
1/2 cup crushed cereal (I used crushed honey bunches of oats)
1/2 tsp cinnamon
(mix the above ingredients together in a large bowl)
1 beaten egg (I used 1/4 cup egg beaters)
1/2 cup unsweetened applesauce
1/8 cup honey
1/8 cup light maple syrup
1/4 cup brown sugar
2 tablespoons vegetable oil
(add the ingredients listed above...mix.)
1/4 cup dried fruit (i used craisins and dried cherries)
2 tablespoons sunflower seeds
1/4 cup chopped walnuts
1/4 cup chopped pecans
1/4 cup chocolate chips
(add the ingredients listed above...mix.)
Then, spread the mixture out onto the baking sheet- mine only covered like, a little over half of the sheet. It's fine. Don't freak out.
Put in the oven for 30 minutes. Take it out after that. Let it cool for 10 mins. Then, cut it into 24 squares (well, rectangles. I cut mine into 6 strips lengthwise and then 4 the other way. I'm really great at math.)
Then...enjoy! Or just come to my apartment and share mine!
You're welcome, world. You're welcome.
And let us end this with a Meaghan-ism, shall we?
44. I very rarely buy anything full price. I'm a sale shopper. Plus, I'm crafty so a lot of time I just make things fo' free.